Himalayan Country House is in the heart of legendary old Manali village, the original Manali, named after Manu Rishi. The only Manu temple in India will be visible from your room. Surrounded by village houses in the traditional style, you will get a tangible sense of local life as it is lived here. The village also has an extensive bazaar catering to western tourists. As its popular destination among backpackers, adventurers, explorers, peace seekers...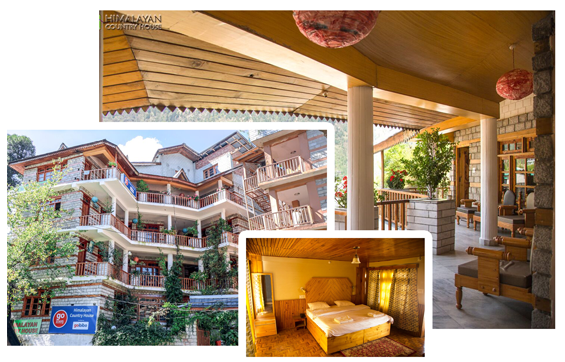 When you host a party or family reunion, the special celebrations let you streng then bonds with
Local Cousins
For your hospitality, we have our own dinning hall where you can enjoy all our delicious and local foods.
Travel Desk
We can help you out in arranging all travelling facilities for you.You will get everything on your doorstep.
Free Wi-Fi
We provide a free wifi internet service so you will not miss anything. You will get the wifi services once you check-in.
24 Hours Hot Water
We have a great 24/7 room services. You can give us a ring whenever you want to eat something.
TV/LED
For your enjoyment, we have attached a big flat tv screen in each hotel room. You can spend some leisure time.
Intercom In Each Room
When you feel tired or exhausted then you can take a sip of some of our famous drinks Lauren R
Amazing staff and rooms and view
The view is gorgeous! We had a delicious traditional breakfast delivered to our balcony. The staff are lovely and they even did my washing! The hotel is walking distance to town and there's a big variety of restaurants and bars to chose from. Paul A
We booked the junior suite and the room was amazing! The views were outstanding. What a nice scene to wake up to in the morning! You also see monkeys and squirrels on the trees. Bed was really comfortable and bathroom was huge. The only problem is that water flows everywhere when having a shower. Breakfast was excellent and varied every morning. The city centre is 3 mins. by tuk tuk. Dona Huegreg
Great place to stay
My wife and I spent three nights at Country House in Ella and loved it. It's about 200m down the road from Ella town, so easy to walk but just far enough away from town to be relaxing. We were on the top floor with mountain and would definitely recommend that room – incredible view of Ella Rock and a great breakfast on the balcony. Also a bit more removed from the traffic that winds around the road below. It's a simple space but clean and staff are accommodating and helpful. We would definitely stay there again. Laura P
Beautiful
Great stay on our journey round Sri Lanka. Clean and comfy room with all the things you need. Staff were kind and very caring, food was great. View from our balcony was amazing! What a place. Definitely recommend a stay in ella. Bonus it was a 5 mins walk to the town where there was bars, shops and restaurants Mclovin
Perfect stay
Friendly owners! Clean rooms with amazing views. Its only a 5 min walk from the mainstreet. The breakfast is good. Ella is a nice town with a lot of good bars and restaurants. Rent a bike and go to lipton seat. Lipton itself is not that impressing but the ride to get there is amazing ! Laura S
Great stay, comfortable, big rooms and kind hosts
Country house is a wonderful place to stay. The family who run it are so kind and room was very comfortable and spacious. Breakfast was great and we saw lots of monkeys from our balcony. They went out of their way to organise tuk tuks into the centre when it rained (although its only a 5 min walk), and even did our laundry which was really helpful Paloma F
Lovely balcony
Very comfortable and the the family who runs it is very kind. Very nice breakfast brought to your room! A bit noisy in the morning but it is the nature of the town. 5 min walk to the town centre with plenty of food options.Paloma F A real Gem
Wonderful place to stay. Staff above and beyond- they even did our washing!!!
Huge rooms- road a little noisey but not at night. Wifi strong . Lovely balcony where they serve you private breakfast which was delicious